Meet Chloe – Project manager
You've been with the Company a couple of months now. How has your onboarding experience been? Any advice you can share for other new starters?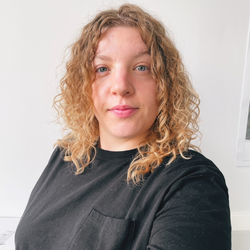 I have been within General Dynamics for just over two years, I came straight out of university on to the Graduate Scheme in Hastings and have now come off into a
Excellent, considering full-time working from home and the strange world we currently live in. I've felt supported and welcomed from day one. I think, 1. ask questions, 2. don't be afraid to ask for help or further clarity, 3. put yourself out there, 4. get organised, 5. get yourself informed (read policies, speak to other teams, etc) 6. know your main points of contact for each department and 7. be yourself and enjoy it!
I had the amazing opportunity to attend DSEI in my first month with the business and I really value the experience, knowledge and networking I gained from my attendance there. It's helped me in so many ways: from understanding who we are as a whole company rather than just the Typhoon team, to getting to actually meet and network with my colleagues from the UK and Canada. I've since been able to support other new starters to my team with tips, access, links, etc, that'll be beneficial to them too!
What do you enjoy most about your role?
I love being a Project Manager. I find the subject matter and our day-to-day topics interesting and somewhat exciting, every day is different to the next. I love the people and how supportive, helpful they are. I'm enjoying learning about the Typhoon and LTE, the wider company and the defence industry as a whole. I feel like I've gained a new family and I hope to be at this Company for a long while!
What makes you proud to work at General Dynamics?
I feel like I've quickly become part of the General Dynamics family, so supporting my colleagues, seeing the hard work, time and effort we all put in on a daily basis, and knowing we make a difference in the world, is all really important and something we should all be proud of.
General Dynamics UK is now recruiting for a number of exciting roles. Check out our opportunities here.