Meet Chris – Business Development Manager
Your career background?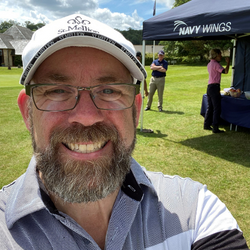 Following university, I joined a small business that manufactured lasers and fibres for scientific research and saw it grow over the 10 years I was there. I joined as a test engineer, moving towards a customer-facing role – working across sales and strategic planning. I then started working within defence in a technical sales role, moving to Kylmar which was later acquired by General Dynamics UK, and then onto another company, where I focused on naval. Over the years, I've worked across most disciplines within defence.
Why did you join us?
My role is very exciting as I have many different avenues under one main title. My main job allows me to explore near future research on our Research and Development programmes, with more As the Company is growing within the naval area, I felt I had a lot to offer building on my experience from a strategic and autonomy side. It was an exciting opportunity to use my skills, bring value and contribute. My role is focused on growing the business – looking at our opportunities to strengthen within the naval sector. Using a combination of the skills I've learned over the years, it's an exciting opportunity and a big challenge. Since joining, I've also been looking at how we can bring technology from other business parts and exploit that into the UK.
First impressions?
The team is very welcoming and I felt at home straight away. I was supported to get set up and begin contributing early – with colleagues already lined up to help with the information that I needed to get started. Early exposure to the leadership team was also great – they were very approachable and enthusiastic to have me on board.
What do you enjoy the most?
Working with a bunch of talented people! We all have a similar mind-set on how we grow as an organisation. It's fantastic to see how we nurture the diverse talent we have – and are focusing on diversity overall from a social value perspective.
General Dynamics UK is now recruiting for a number of exciting roles. Check out our opportunities here.