Meet Isaac, a Graduate Project Manager based in Hastings, who joined the Company in September 2017.
What does your role entail?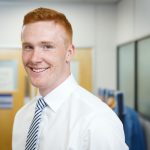 I am currently on a placement that gives me the opportunity to experience the whole business. I have worked within the engineering team for my first two months, and am now moving on to working with manufacturing and supply chain.
My first year will be dedicated to gaining a deeper understanding of the business to prepare me for a more project management-focused role during my second year of the graduate scheme. I have also been involved with smaller project management tasks for products including Terminal Timing and Interface Unit (TTIU).
I enjoy the variety of the role so far – there's always something new to learn (especially acronyms!) and new people to work with on different projects. It's very interesting getting to know what other employee roles are within the business by working with them to see what they get up to day-to-day.
What are you career goals/aspirations?
My immediate goal is to start taking some of the Association of Programme Management exams, in addition to running a successful project within my first two years of the scheme. My longer term goal includes being successful in the project management field, as well as being a project manager that is reliable, helpful and good at getting things done!
Want to work on projects for a range of avionics systems used on different types of military aircraft around the world? Find out more about our graduate scheme in Hastings here.