We caught up with Kieran, vetronics engineer, based in South Wales, who started on the first intake of apprenticeship programme in 2013. Having now qualified, he is a full-time engineer working within the power systems team on the AJAX programme.
Why did you join the Company?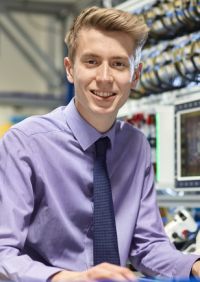 Growing up I always had a passion for engineering having taken science, technology, engineering and maths (STEM) options at GCSE and A-level. I was determined to get an apprenticeship, excited by the thought of gaining invaluable work experience whilst studying and applying the knowledge learnt into the world of work. Having grown up in Oakdale, I had heard of General Dynamics UK and been interested in the fact that the next generation of armoured fighting vehicles were being designed and developed on my doorstep.
Tell us about the training received on the programme?
At the beginning of the scheme a lot of time was spent within Newport and District Group Training Association (NDGTA) developing practical engineering skills such as lathe work, designing electronic circuits, Programmable Logic Controller (PLC) programming etc. I then began block release within the Company and rotated between the college and work every six weeks, which allowed me to incrementally learn and then apply my knowledge in the workplace. Alongside this, one day a week was dedicated for academic studies throughout the scheme beginning with BTEC Level 3 and finishing year-four with a HNC in Electrical / Electronic Engineering.
Tell us about your rotations on the programme?
I began the scheme working within General Dynamics Mission Systems–UK where I learnt the Bowman system and the basics of software engineering. I then started a placement with General Dynamics Land Systems–UK, working in the electrical design team updating designs and generating documentation for vehicle prototype production. After this I rotated through a number of placements in systems integration, assembly integration and test and power systems. I've had a number of great opportunities on the scheme supporting trials around the UK, attending STEM events and spending time in Spain supporting electrical integration.
What is your current role and how did your apprenticeship influence this?
My current role is a vetronics engineer within the power systems team on the AJAX programme. My role day-to-day is very varied and can involve updating design documentation, writing and reviewing test plans, executing electrical tests on vehicles and involvement in customer and supplier technical engagements. I enjoy it as I'm presented with new challenges daily, which allows me to constantly learn and develop key professional skills. Throughout my apprenticeship I found a passion for both electrical and systems engineering and pursued a role that encompasses both.
Tell us about your involvement in STEM projects?
I've been involved with STEM for a number of years now and have attended a number of events including career fairs, school talks and providing support for engineering projects within schools. In 2015, I represented General Dynamics UK at Monmouth School, acting as the contact engineer for their Engineering Education Scheme Wales (EESW) project. Being a STEM Ambassador gives me great opportunities to inspire the younger generation and provoke their thought about entering the rewarding world of engineering.

Any future career plans or aspirations?
In the next two to three years, I plan on continuing my academic education through to Masters level, eventually attaining chartered status whilst working in my current role. From there I hope to pursue a role that will give me visibility of the wider-engineering function, eventually leading a team of engineers responsible for a significant part of a vehicle system. Let's see!
If you're interested by Kieran's story and want to know more about joining the team, click here.