We met up with Kirsten, apprentice production planner, based in Hastings, who joined the Company last year on an apprenticeship programme.
Before joining the Company, Kirsten studied Business at Sussex Coast College, Hastings – deciding to join the Company to put the business knowledge learnt at college into practice within a business environment.
"Having the opportunity to learn new on-the-job skills, with plenty of room for progression was a big influence in applying for the apprenticeship."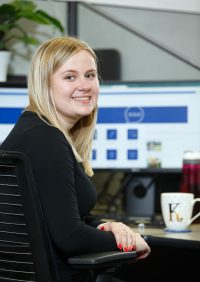 Tell us about the apprenticeship programme
I am on a two-year course, working five days a week with my college assessor visiting to monitor my progress regularly. My role varies, with focus on different topics on the course such as finance, meetings / minutes, presentations, email, communication and employee rights and responsibilities. So far, I have been busy learning more about the Company, receiving a mix of business administration tasks, such as monitoring schedules of work and attending different meetings with different department managers.
I have a varied role, I look after configuration on the General Dynamics UK side for a development project which involves monitoring progress on the shop floor at the Churchfields site for Bowman, which involves looking after the paperwork.
"The best thing is that there is the flexibility to be able to progress – learning different job roles in other departments such as manufacturing, development, engineering, finance, and testing."
Why did you decide to join the Company?
There are different progression opportunities and the job role I am in is flexible. The apprenticeship programme can also allow progression up to degree level qualifications. I have the opportunity to earn whilst I learn – doing something different that not many people have heard of. It's not just a job it's a career…
Find out more about the apprenticeship programmes we offer here.