We met up with Milly, project manager, based in South Wales, who has been with the Company for four years.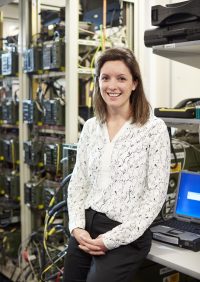 After completing a degree at Cardiff University, Milly joined General Dynamics UK on the graduate programme, working within security and resilient solutions.
During her graduate scheme, Milly worked on projects including: Design Service Provision, ComBAT Modularisation, Experimentation, Land Deployable Gateway and most recently on BCIP 5.6 internal software and modelling.
"Every project is different, provides new challenges and the ability to learn. Understanding some of the technical solutions can be difficult, however there is always a patient engineer around to explain it to you!"
In her spare time, Milly enjoys cooking (especially baking), triathlons and generally being outdoors. In September, Milly had the opportunity to represent Team GB at the Triathlon World Finals in Rotterdam. With more than 90 people in the race and a representation from all over the world, the event compromised of a 1,500m swim, 40km bike and a 10km run – with the open water swim in the Maas River, the bike including a two-lap course, finishing with the run around a woodland park.
Milly came within the top 20 in both the swim and run, achieving an overall time of 2.23, finishing 33rd overall. Milly has also qualified for the European Championships so will be competing in Tartu, Estonia in July.