We met up with Rum, one of our production team members based in Merthyr Tydfil, who is also a Royal Electrical and Mechanical Engineers (REME) Reservist.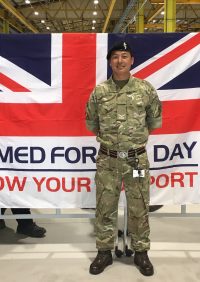 Rum joined General Dynamics UK in February 2017. He is also employed by the Army Reserves as a vehicle mechanic, part of 105 Battalion Royal Electrical and Mechanical Engineers (REME). Prior to joining General Dynamics UK, Rum was apart of the Infantry Battalion for the Royal Gurkha Rifles until 2009 and joined the Welsh Guards in London in 2010.
Currently, Rum is working on the AJAX programme, as part of the assembly, integration and test (AIT) team. As a vehicle cell lead, his day-to-day role involves looking after the team to ensure they are on track with their tasks, as well as maintaining all rules and safety regulations whilst providing feedback on progress of the build.
"My role at General Dynamics UK relates to my role as a Reservist – they both involve military vehicles, helping me to understand the terminology used. Additionally, the self-discipline and work ethic encouraged by the Army has also been beneficial within the workplace."
As a Reservist, Rum works on maintaining all vehicles that are serviceable in the unit, which involves servicing and fixing. He has completed a two-week camp, receiving a variety of work experience and making new friends and meeting colleagues in different environments. Over the next five years, Rum is hoping to take on more responsibilities as a Corporal in the Reserves.
We're recruiting for a variety of roles based in Merthyr Tydfil, click here.