As we launch our 2018 apprenticeship programme for applications, we caught up with Tyler, first-year engineering apprentice, based at Oakdale in South Wales, to get an insight into the programme…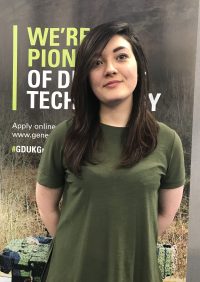 Tell us about the apprenticeship programme?
Since joining the Company, I have been attending college as part of my NVQ level 2 in electrical and mechanical engineering within my first six-week college block. As part of the electrical element, this involves learning the basics of circuits, programmable logic controlling, design, engineering drawing and taking part in health and safety courses. For mechanical engineering, I have been learning to build vice guards, as well as improving skills such as hand fitting, turning and milling machining.
What does a typical day look like?
Following my first college block, I joined the Company in January, as part of the assembly integration and test team for the first two-week interval, followed by joining the Computer Aided Design (CAD) team for the next two-week period. As part of the CAD team, I had the opportunity to do some 3D modelling of the vehicles. Whilst on the assembly integration and test team, my role involved installing wires on the armoured fighting vehicle, AJAX. I was also involved in the software integration and test on the AJAX vehicle, where daily tasks included bug testing.
A typical day involves physically working on the vehicle, completing tasks such as building cables and finding bugs from testing. I also have the opportunity to work in the mechanical workshop which involves building the electrical containers – design and development, plus test and evaluation of the electrical toolset for the AJAX platform.
"I decided to join the apprenticeship programme at General Dynamics UK to get the work experience whilst balancing with my learning – it's great to get paid to learn whilst having the opportunity to work on the vehicles."
Why did you decide to join the Company?
The reason why I joined the programme and decided to pursue a career within the defence industry was being able to get hands-on with the vehicles. The best part of the programme is the support you receive – I get help with learning and training. In particular, when rotating around the different areas of the business, we're given a task manager in addition to a line manager for support – so I have help in different areas of the business. It's also great to see the Company supporting women in engineering – providing any support needed for all employees.