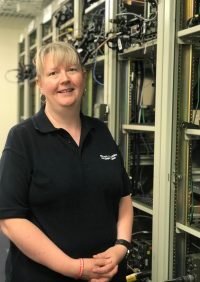 What was your route into General Dynamics UK?
Initially, I joined the Company as an administrator and moved into a technical administrator role. Later on, I progressed into a technician then achieved engineer status.
Tell us about your role
Recently, I have taken a senior supervisory role in laboratory support which involves supporting the laboratories at Oakdale, demonstrations and trials for programmes, including BCIP, Joint System Integration Body (JSIB) and Design Service Provision.
A typical day involves tasks from rack reconfiguration, cable manufacturing, software flashing and software drop uplifts, setting up areas for demonstrations and providing general support for engineers.
What does engineering mean to you?
Engineering is a realm of knowledge that can vary with particular types of work required within that area and sector.