Meet Vilash – senior system engineer, based at Oakdale, South Wales.
What was your route into General Dynamics UK?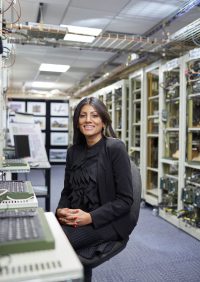 I joined the Company in 2003 as a technical support assistant, gradually moving into a system engineering role.
Tell us about your role
Currently, I am working on the Evolve to Open (EvO) programme. EvO represents the first incremental stage of the future Land domain Tactical Communications and Information Systems capability being acquired incrementally by the UK Ministry of Defence.
Working within the system modelling team, this involves capturing the architecture design within an integrity modeller tool. My role also involves supporting members of the team with system modelling support and guidance, as required.
Why do you think it is important to encourage young females to study STEM subjects?
I think STEM is important as it teaches us life skills that other subjects do not. It's great to see more and more female engineers emerging in the workplace.
"STEM helps build skills and encourages exploration, creativity and innovation which are vital for the next generation."
Why do you think celebrating International Women in Engineering Day is important?
Women in Engineering Day is important as it helps encourage females to explore and study STEM subjects.
What does engineering mean to you?
For me, engineering means continual improvement through problem solving and coming up with better solutions. It means breaking down complex problems into more manageable chunks. I think engineering is important in managing complex systems over their entire lifecycle including requirements management, concept exploration, analysis, design, development, manufacture, delivery, operational support and obsolescence. I believe engineering is fundamental in acquiring knowledge and learning new skills.
Why would you recommend General Dynamics UK as a great place to work?
General Dynamics UK supports flexible working and provides a great selection of benefits, including childcare vouchers. You have the opportunity to work a compressed nine-day fortnight, with every other Friday off which is great. The Company also offers you the opportunity to tailor your benefits package to meet your personal and family needs.
The Company also encourages females to take on STEM subjects through the graduate scheme, as well as actively recruiting female engineers.